"The DJI Phantom 4, it's the first consumer unit that can see the world around it and adjust accordingly, the next big step towards a truly autonomous aircraft." — The Verge , March 1, 2016
"Smarter, leaner, faster, stronger? That's the promise with DJI's Phantom 4 ." — Engadget , March 1, 2016
"This quadcopter can do something other drones can't: keep you and me from being idiot pilots." — The Wall Street Journal , March 1, 2016

DJI PHANTOM 4
The DJI Phantom 4 is the smartest flying camera ever created by DJI and the most advanced consumer drone on the market. The DJI Phantom 4 is a Ready-To-Fly aerial drone that has many intelligent flight features that stand out from the previous Phantom models. Various intelligent autonomous flight modes allow all skill levels to capture phenomenal aerial footage in 4K UHD Video and 12 MP Photographs.
This is DJI's smartest flying camera ever, and its standout feature is the intelligent Obstacle Avoidance Sensing System which operates in real-time to prevent crashes before they occur.
Checkout the upgraded Phantom 4 Pro!
Video: In Action
Here's a few videos of the Phantom 4 in action.
FEATURES:
Obstacle Sensing System intelligently avoids collision in real-time
TapFly with the press of a button launch your Phantom 4 instantly
Various Intelligent Flight Modes for user flexibility and precision
Intelligent Flight Mode/Sport Mode/Cinematic Mode
Beginner Mode/Autopilot Mode/Return To Home
Dual GLONASS satellite and GPS connection
Real time person of interest ActiveTrack
4K UHD Video footage/12mp still photographs
Integrated 3 axis gimbal stabilization system
Achieve 3.1 miles/5km of flight range
Achieve 28 minutes of flight time
Phantom 4 Remote Transmitter
DJI Go App compatible iOS/Android
Variety of improvements over Phantom 3 models
Obstacle Sensing System
The biggest difference in the Phantom 4 over the previous models is the intelligence of the drone. With sense and avoid technology the Phantom 4 will avoid any obstacles in its path as it captures aerial footage, avoiding everything from tree branches to rocks, other people, or buildings.
Once you mount a mobile device such as a cell phone or tablet above the controller, the sense and avoid technology also allows you to select an object on the screen, such as a person and the drone will automatically follow that object while avoiding everything else in its path.
TapFly
Getting started flying the drone is as easy as tapping a button with the TapFly function. Simply tap the button and the DJI Phantom 4 will lift into the sky and hover there, waiting for you to give it further commands. Single touch button functionality also automatically lands, and fail-safe loss of connection will land your Phantom 4 safely.
Flight Modes
From here you can control the drone in 3 modes; intelligent navigation mode, speed/sport mode, and cinematic mode. Intelligent navigation mode allows you to program flight plans into the drone which the drone will execute while cinematic mode will allow you to capture sweeping aerial cinematic video, and sport mode will allow the drone to fly up to 44mph (72km/h) while avoiding obstacles.
A unique beginner mode for first-time pilots creates a GPS enforced zone that your Phantom 4 Drone must stay within using the DJI Phantom 4's integrated GPS module. The autopilot function for more advanced flyers allows you to program flight plans for your DJI Phantom to fly on its own.
Once you are finished, landing the drone is as simple as tapping the "smart return to home" button. The drone operates via its reliable dual satellite, GPS and GLONASS, allowing the Phantom 4 to connect to satellites faster and avoid obstacles en route.
ActiveTrack
ActiveTrack has made follow-me functionality smart while operating in real-time alongside DJI's sophisticated Obstacle Sensing System. With the tap and drag of your finger, designate a box of interest that the Phantom 4 will follow. Recognizing your person of interest, the Phantom 4 will naturally follow without any further input from the pilot. Your subject will always be in frame, and your cinematic video or pictures will demonstrate the exceptional difference.
4K UHD Video
The integrated HD camera shoots 4K UHD video at 30fps, video that is over 3 times as clear as the video on your HD TV. The camera also shoots  slow motion 1080p video at 120fps or can capture 12 megapixel still photographs in either JPEG or Adobe DNG RAW format.
Integrated Gimbal
The built-in 3 axis gimbal along with the built in 3 axis u-frame structure camera stabilization system keeps the camera perfectly level as the drone banks and rolls to ensure your photos look sharp and your stunning aerial videos stay smooth in flight. The DJI Phantom 4 allows anyone to take stunning aerial photography.
With up to a 28 minute flight time, you will have more than enough time to capture stunning aerial photography and video from the sky while utilizing the DJI Phantom 4's advanced features.
Flight Range
The DJI Phantom 4 controller features powerful 5.8Ghz transmission, allowing you to fly 3.1 miles, or 5 kilometers away with ease. In the event that the DJI Phantom 4 drone loses contact with the controller, it's failsafe command will ensure the drone automatically flies back and lands at the point it took off from.
Flight Duration
The onboard battery is a 5350mah lipo battery that will give the user approximately 28 minutes of flight time per charge. The intelligent battery pack tells you how long you can continue flying and alerts you when it is time to turn around and fly back.
Phantom 4 Remote Transmitter
The Phantom 4 Remote Controller has been ergonomically designed to fit perfectly in your hand, and controls all aspects of the camera in addition to the drone. Simply adjust the knobs at the top of the controller and the camera can be moved in flight. The Transmitter has a mobile device holder where you can clip your phone onto.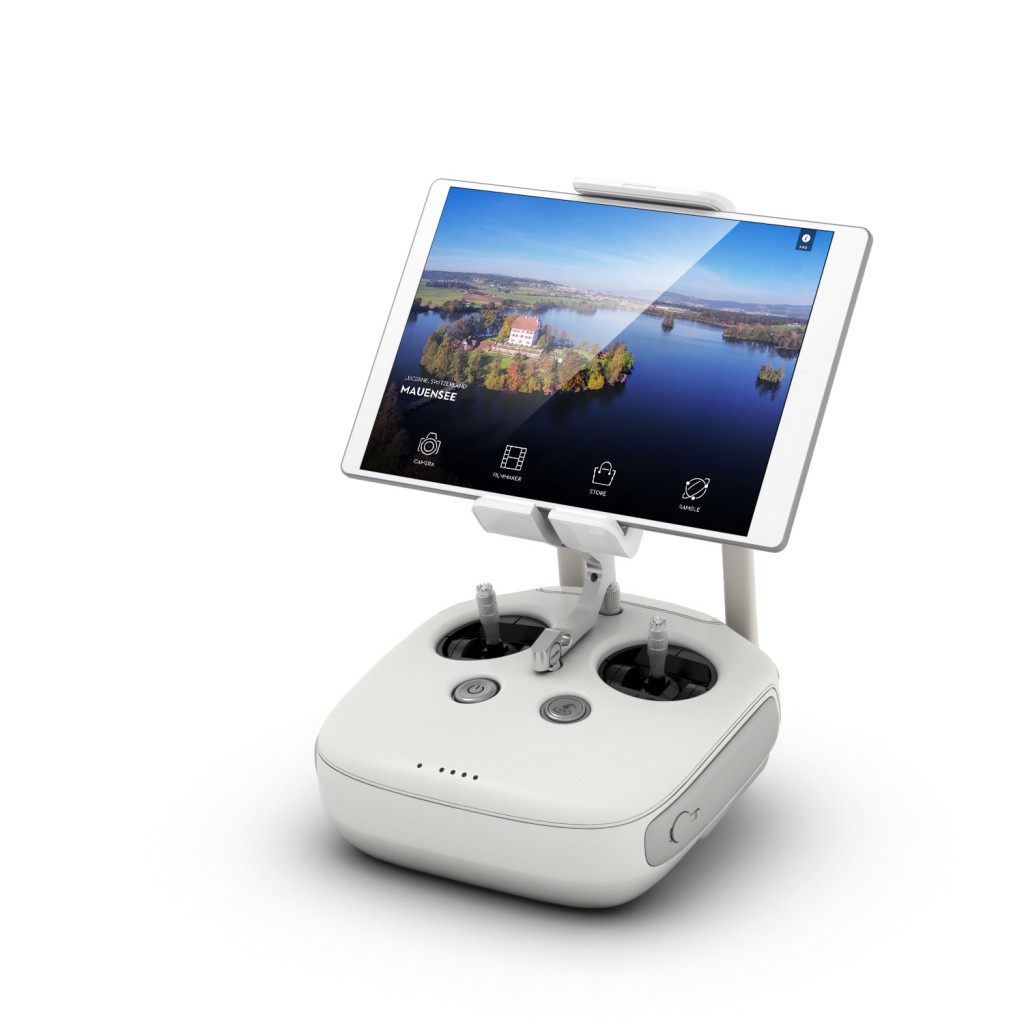 DJI Go App
Simply download the DJI Go App, connect your phone to the controller via the controller's USB cable and you will be able to stream live footage from the drone to the screen of your mobile device. The DJI Go App also displays a map of your DJI Phantom 4's location via the DJI Phantom's dual onboard satellite GPS while full camera control can also be accessed via the screen of your mobile device. The DJI Go App is compatible with iPhone and Android devices.
Improvements
Four bright LED lights at the end of each arm allow the operator to easily see the drone in the sky and also allow you to see the orientation of your drone. The DJI Phantom 4 also features 4 push – and – release propellers for easy installation and dismantling. A dual satellite GPS, along with a dual compass and dual IMU substantially increase the reliability of the DJI Phantom 4 over previous models.
An ergonomic design with aerodynamics at the forethought of design, has resulted in a sleek and efficient design. Not only has the flight time been improved, but the designed body minimizes buffeting when flying during windy conditions. Center of gravity has been lifted with changes to the location of the battery and a more deeply integrated gimbal, enhancing the agility and accuracy of all commands.
WHAT'S INCLUDED?
DJI Phantom 4 Drone with 4K Camera and Gimbal
Remote Controller x1
Propeller Pairs x4
Intelligent Flight Battery x1
Battery Charger x1
Power Cable x1
Manuals
Gimbal Clamp x1
USB – OTG Cable x1
Micro USB Cable x1
Micro SD Card (16GB) x1
Carrying Case x1
PARTS AND ACCESSORIES
Let us know via the chat function at the bottom of the screen if you would like to add any accessories such as additional batteries, propellers, or anything else to your order.
DJI PHANTOM 4 SPECS
AIRCRAFT
Weight (including battery and propellers)
1380 g
Max Ascent Speed
6 m/s (Sport mode)
Max Descent Speed
4 m/s (Sport mode)
Max Speed
20 m/s (Sport mode)
Max Service Ceiling Above Sea Level
19685 feet (6000 m)
Max Flight Time
Approx. 28 minutes
Operating Temperature
32° to 104° F (0° to 40° C)
GPS Mode
GPS / GLONASS
Hover Accuracy
Vertical:
+/- 0.1 m (when Vision Positioning is active) or +/-0.5 m
Horizontal:
+/- 0.3 m (when Vision Positioning is active) or +/-1.5 m
OBSTACLE SENSING SYSTEM
| | |
| --- | --- |
| Obstacle Sensory Range | 2 – 49 feet (0.7 – 15 m) |
| Operating Environment | Surface with clear pattern and adequate lighting (lux > 15) |
CAMERA
Sensor
1/2.3" Effective pixels:12 M
Lens
FOV 94° 20 mm (35 mm format equivalent) f/2.8, focus at ∞
ISO Range

100-3200 (video)
100-1600 (photo)

Shutter Speed
8s -1/8000s
Image Max Size
4000×3000
Still Photography Modes
Single shot
Burst shooting: 3 / 5 / 7 frames
Auto Exposure Bracketing ( AEB ): 3 / 5 bracketed frames at 0.7 EV Bias
Time-lapse
HDR
Video Recording Modes
UHD: 4096×2160 (4K) 24 / 25p
3840×2160 (4K) 24 / 25 / 30p
2704×1520 (2.7K) 24 / 25 / 30p
FHD: 1920×1080 24 / 25 / 30 / 48 / 50 / 60 / 120p
HD: 1280×720 24 / 25 / 30 / 48 / 50 / 60p
Max Video Bitrate
60 Mbps
Supported File Formats
FAT32 ( ≤ 32 GB ); exFAT ( > 32 GB )
Photo
JPEG, DNG ( RAW )
Video
MP4 / MOV ( MPEG – 4 AVC / H.264 )
Supported SD Card Types
Micro SD
Max capacity: 64 GB. Class 10 or UHS-1 rating required
Operating Temperature
32° to 104° F ( 0° to 40° C )
CHARGER
| | |
| --- | --- |
| Voltage | 17.4 V |
| Rated Power | 100 W |
APP / LIVE VIEW
Mobile App
DJI GO
EIRP
100mW
Power Spectral Density
6.9mW/MHz
Live View Working Frequency
2.4GHz ISM
Live View Quality
720P @ 30fps (depending on conditions and mobile device)
Latency
220ms (depending on conditions and mobile device)
Required Operating Systems

iOS 8.0 or later
Android 4.1.2 or later

Recommended Devices

ios: iPhone 5s,iPhone 6, iPhone 6 Plus, iPhone 6s, iPhone 6s Plus, iPod touch 6, iPad Pro, iPad Air、 iPad Air Wi-Fi + Cellular、 iPad mini 2、 iPad mini 2 Wi-Fi + Cellular、 iPad Air 2、iPad Air 2 Wi-Fi + Cellular、 iPad mini 3 and iPad mini 3 Wi-Fi + Cellular. This app is optimized for iPhone 5s, iPhone 6, iPhone 6 Plus, iPhone 6s and iPhone 6s Plus.
Android: Samsung tabs 705c、Samsung S6、Samsung S5、Samsung NOTE4、Samsung NOTE3、Google Nexus 9、Google Nexus 7 II、Ascend Mate7、Huawei Mate 8、Nubia Z7 mini、SONY Z3 EXPE、MI 3、MI PAD

*Support for additional Android devices available as testing and development continues.
GIMBAL
| | |
| --- | --- |
| Controllable Range | Pitch: -90° to +30° |
VISION POSITIONING
| | |
| --- | --- |
| Velocity Range | ≤10 m/s ( 2 m above ground ) |
| Altitude Range | 0 – 33 feet (0 – 10 m) |
| Operating Range | 0 – 33 feet (0 – 10 m) |
| Operating Environment | Surfaces with a clear pattern and adequate lighting (lux > 15) |
REMOTE CONTROLLER
Operating Frequency
2.400 GHz to 2.483 GHz
Max Transmission Distance
FCC Compliant: 3.1 mi ( 5 km );
CE Compliant: 2.2 mi ( 3.5 km )( Unobstructed, free of interference )
Operating Temperature
32° to 104° F ( 0° to 40° C )
Battery
6000 mAh LiPo 2S
Transmitter Power (EIRP)
Operating Voltage
7.4V @ 1.2A
INTELLIGENT FLIGHT BATTERY
| | |
| --- | --- |
| Capacity | 5350 mAh |
| Voltage | 15.2 V |
| Battery Type | LiPo 4S |
| Energy | 81.3 Wh |
| Net Weight | 462 g |
| Operating Temperature | 14° to 104° F ( -10° to 40° C ) |
| Max Charging Power | 100 W |
CONTACT
Contact [email protected] or use the live chat below if you would like help learning about configuring your DJI Phantom 4 purchase.